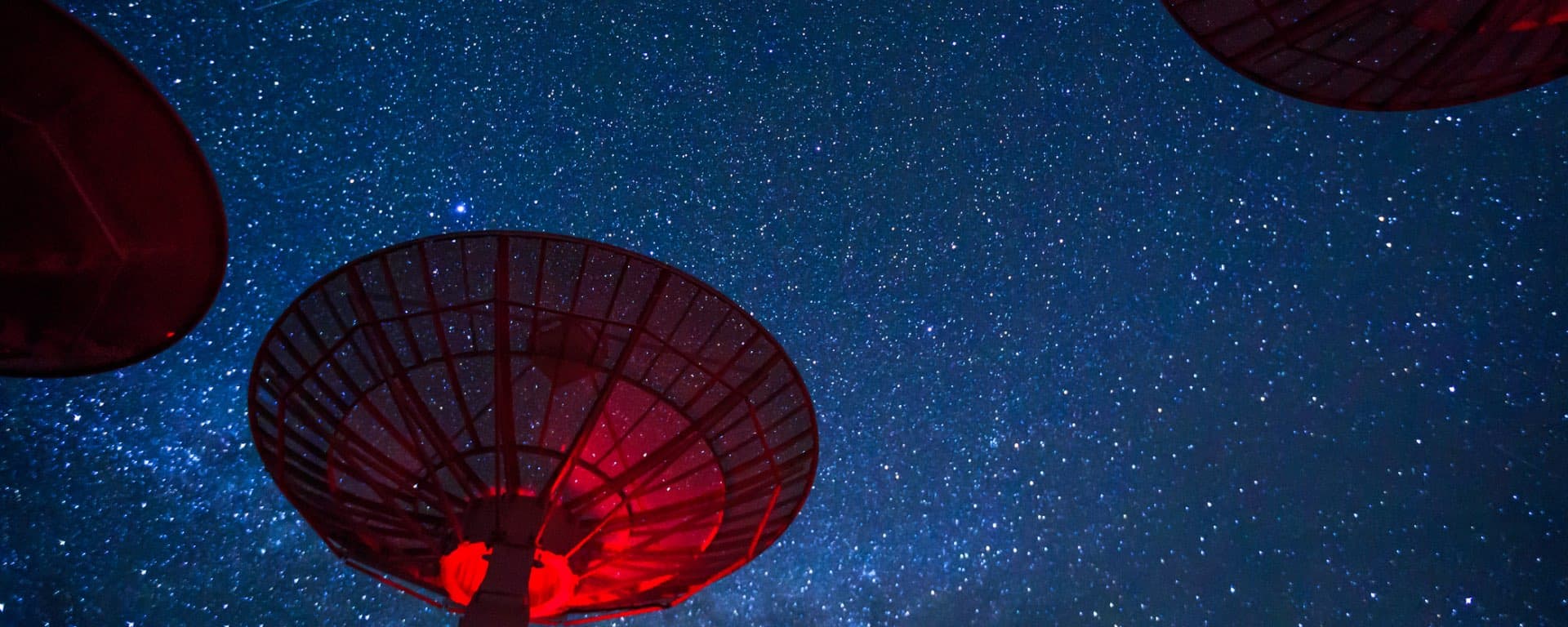 ANNUAL REPORT AND ACCOUNTS 2022
2022 was a year of steady progress for AAC Clyde Space. We are poised to take advantage of increasing demand for space-based data, and space services, in industries ranging from shipping to agriculture. We continue to work with our customers and partners to realise the huge potential of small satellites and our data for business and for people on earth. We are ready and excited to keep building significant growth in 2023.
DOWNLOAD THE REPORT
2022 HIGHLIGHTS
(2021 COMPARISON)
NET SALES
SEK 196.7M
(180M)
Net Sales: +9%
ORDER BACKLOG
SEK 427.8M
(407M)
Order backlog: +5%
IT TAKES AN INDUSTRY TO RAISE THE EARTH
NET SALES AND EBITDA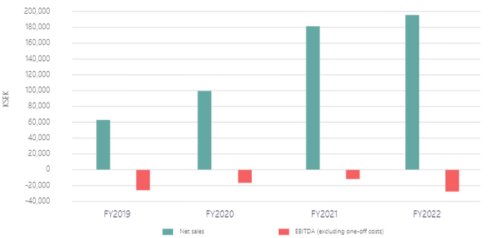 ORDER BACKLOG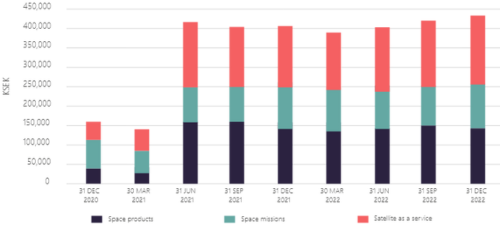 HIGHLIGHT PROGRESS ON STRATEGIC PRIORITIES
GROWTH
We agreed with our partners to move into final phase of the xSPANCION project. The three-year project aims to develop an innovative satellite constellation service of 10 spacecraft. The project is on track to be fully operational in Q3 2024 with manufacture, launch and in orbit operations.
We saw significant growth in AAC Space Africa, including delivery of a Ground Station for Botswana. It marks the first contract for AAC Space Africa and is an important steppingstone to leveraging space-based data in the region.
Four satellites have been delivered that will add to our Space Data as a Service capabilities. Three were developed to deliver hyperspectral imagery data to Canadian company Wyvern. The first of these was launched on SpaceX's Transporter 7 mission in April 2023, and will begin delivering data in Q2 2023. The fourth satellite is the Kelpie-1 satellite. It was manufactured for launch in January 2023, growing our constellation. The data will be delivered to ORBCOMM Inc, under a Space Data as a Service contract, starting in Q2 2023.
EFFICIENCY
We organised and streamlined production, ensuring we are more demanding of our supply chain. In addition, we improved vertical integration with increased use of our group's hardware in satellite missions. Our financials show clear progress, with net sales growing year on year to reach SEK 197M
Prior to the agreement to move into phase 3, we successfully completed phase 2 of xSPANSION contract. This project will see us build 10-satellite constellation successfully completed. This saw the end of the implementation phase, which included detailed designs of constellation-ready spacecraft, development of digital processes, regulation, and more efficient launch co-ordination.
LEADERSHIP
In 2022, the completion and delivery of Space Data as a Service satellites for ORBCOMM and Wyvern show the scaling up of our Space Data as a Service capabilities. Following their launches in early 2023, we are showing our leadership in our chosen market verticals.
We continued the development of Starbuck range, our most powerful and efficient power system for advanced space missions. This growth supports an ever-expanding range of applications, from cutting-edge science to earth observation, and will help us to become the reference supplier for small satellites.
MARINE EFFICIENCY
LAUNCHING THE
FOUNDATIONS OF A
COMMUNICATION
REVOLUTION
All maritime vessels over a certain size are required to be fitted with an Automatic Identification System (AIS). This shares messages over VHF with the shore. However, as maritime traffic grows, the integrity of the system is being affected.
The solution is the VHF Data Exchange System (VDES). It will allow two-way communications between ship and shore, opening a new world of possibilities through improved connections and data.
We're proud to be launching the satellite infrastructure to get VDES up and running, with Njord-1, our first VDES satellite due to launch this year. Until VDES is ready we continue to support maritime communications and launched two new AIS satellites in 2022.
WEATHER FORCASTING
GENERATING A
CLEARER PICTURE
A change in the winds can have serious implications for life, property, and industry. Whether you're looking at rainfall and temperature for farming or aviation or forewarning of impending extreme weather events, there's a lot of value in weather predictions.
The western world uses supercomputers and advanced models to predict the weather. These predictions are only as good as the data that they're based on. The data itself has many sources, but none more important than satellite data.
We are an innovator in the world of weather satellites, having developed advances in microwave sounders. The data that they will provide is up to three times more valuable than all existing and planned microwave sounders and can be delivered at a cost that is far less expensive.
FARMING PRECISION
SECURING FOOD
SUPPLIES
As Earth's population grows and the space we have to inhabit stays the same, we need to be careful with how we manage and use resources to ensure everyone gets fed.
The space industry provides earth observation data to enable smarter farming, helping farmers see the bigger picture. However, institutional programmes with large satellites have limitations due to the spatial resolution of their imaging and the regularity of fixed cycles.
As part of our Space Data as a Service offering, we are launching a three-satellite constellation which will generate hyperspectral data with global coverage. These images will help farmers increase yields, improve soil quality, and reduce water waste.
"I'm excited to be building funding opportunities for our Space Data as a Service. It's exciting for us as it's a new area in the early stages of development. It's amazing to see what the technology can deliver, especially the applications that it can be put towards to make everyday life on earth better."
INTERVIEW WITH
PAMELA SMITH, VP FUTURE PROGRAMMES
"I love working at such a dynamic company. We're growing all the time and it's great being able to put new systems and processes in place. With that growth we're opening even more opportunities in a market that's growing too. It's great to see us reaching for, and simultaneously growing, our potential."
INTERVIEW WITH
FRÉDÉRIC MENARD, DIRECTOR OF OPERATIONS
"I am proud to be participating in really cutting-edge developments. AAC Clyde Space is building some of the most advanced CubeSat satellites on the planet."
INTERVIEW WITH
FRANCOIS VISSER, TECHNICAL DIRECTOR
SUSTAINABILITY:
WHERE WE MAKE THE DIFFERENCE
PREDICTING
EARTH'S CRISES
Our work on the Arctic Weather Satellite will help to improve weather forecasting accuracy, providing greater warning of server weather events to people across the globe.
CLEARING
EARTH'S ORBIT
Our work with Astroscale is helping to safeguard Earth's orbits, ensuring they can be used in a safe and responsible way for years to come. With satellite numbers constantly rising, this is important work to keep the planet safe.
OBSERVING
EARTH'S FORESTS
AND FOOD
Our work with Canadian earth observation company Wyvern is helping to improve land usage, making food sources more stable, reducing water waste, and tracking deforestation.
MONITORING
EARTH'S OCEANS
Our work on the SOCON project (Sustained Ocean Colour Observation) with Seahawk uses nanosatellites to monitor biological changes in the ocean's surface, helping to track the health of the oceans and the ecosystems within them.
OPTIMISING
EARTH'S FUEL
USE
Our work with Saab and ORBCOMM towards the new VDES maritime communications systems will help drive more sustainable shipping, by finding the most fuel-efficient routes across our oceans.
EXPANDING
EARTH'S DATA
COVERAGE
Our work on the xSPANSION project will allow us to offer near-global data coverage, helping to enable communications in unserved and underserved communities, and deliver data that will help fight climate change.